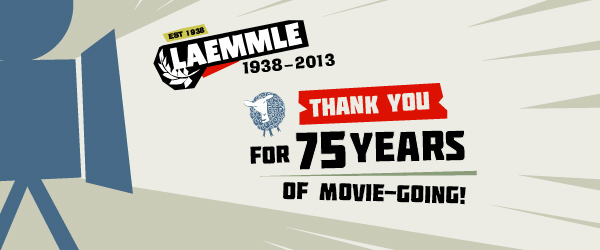 Thanks to all of our customers, friends, family, partners, and sponsors who made our 75th something the Laemmle Family will never forget!
We're in the process of notifying winners and verifying tickets. For those too excited to wait, check your tickets against the list of winning tickets below.
Ultimate Film Pack
Laemmle Annual Pass for 2014 (plus guest)
Membership To American Cinematheque ($1500 level)
Tickets to Palm Springs Film Festival L.A. Film Festival & ColCoa Festival
Tickets to Eat See Hear
Winning ticket: 7502782
L.A. VIP Experience
$500 Laemmle Premiere Card
Tickets to Hollywood Bowl, Center Theater Group, L.A. Opera
VIP Backstage Passes for Santa Monica Pier's Twilight Concert Series
Two VIP reserved-seat tickets to Last Remaining Seats opening night reeception and screening
Winning ticket: 7502985
Iconic L.A.
$250 Laemmle Premiere Card
L.A. Metro Pass
Private Group Walking Tour in downtown with L.A. Conservancy ($150 value)
Museum Entry for LACMA, MOCA, and Natural History Museum
Certificates for Lawry's, Cole's, Pinks, and more
Winning ticket: 7502850
Private Screening for you and 100 guests
Winning tickets:
7501907
7502402
7504656
7504987
7505535
7505842
7505918
Dinner and a movie for two
Winning tickets:
7501667
7501699
7501829
7503262
7503769
7504129
7504322
$40 Premiere Card
Winning tickets:
7501133
7501135
7501263
7501376
7501397
7501459
7501540
7501544
7501748
7501783
7502010
7502029
7502157
7502197
7502199
7502301
7502506
7502524
7502529
7502720
7502983
7503037
7503049
7503200
7503357
7503468
7503540
7503686
7503815
7504327
7504570
7504728
7504807
7505406
7505860
7506799