"Not Afraid of Subtitles" … For Over 75 Years!
Laemmle has been showcasing the Finest in Film for nearly eight decades. A scion of the industry's golden age, the company was founded in 1938 by Kurt and Max Laemmle, nephews of legendary Universal Pictures founder, "Uncle" Carl Laemmle.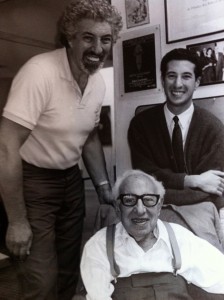 The Laemmle name has since become synonymous with great foreign, independent, and art-house cinema as well as the best of Hollywood.
As one the first exhibitors in the country to see movies and the craft of moviemaking as no less art than commerce, the Laemmles have never wavered from their guiding principal: "to showcase quality film without regard to genre or provenance."
In addition to regular movie-going, Laemmle provides alternative cinematic experiences through one-night screenings, special events, premieres, and Academy qualifications. These unique offerings reflect Laemmle's commitment to being an artistic resource and gathering place for the community at large. In addition, Laemmle's popular Sneak Preview Club gives over 25,000 movie-lovers access to films prior to release.
Serving millions of Angelenos, the Laemmle family has operated its network of neighborhood theaters not just as a business, but also out of a deep sense of community and cultural stewardship.